Smarter Shopping: Accelerating The Evolution Of Last Mile Grocery Deliveries
by Vincent de Winter
06 March 2022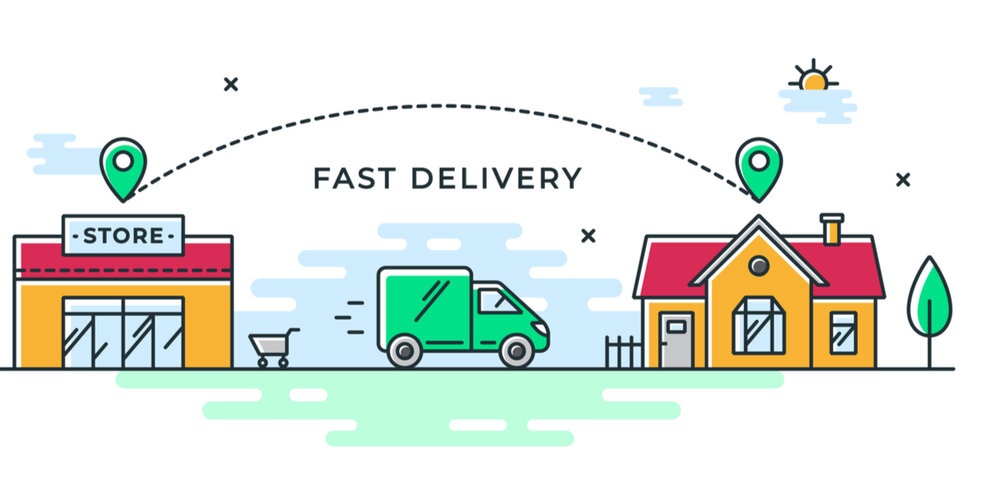 Food For Thought: Making Profit Comes First In Last Mile Grocery Deliveries
Discover how smart solutions and partnering has helped e-retailing consultants, Open Routing, deliver cost efficiencies to the competitive world of online grocery shopping – in partnership with software development partner, We Are North.
The combination of data and technology, a dramatic shift in consumer spending patterns and the imposition of pandemic lockdowns has created the perfect storm and a signpost to increased profit for Europe's margin-squeezed grocery retail businesses.
For some time, the grocery sector has been at the tail end of the online shopping revolution, most notably because of the challenges of consumer demands for in-store choice and the imperative to deliver fresh products, including ambient and chilled temperatures – all to unforgiving schedules and challenging timelines.
But when the retailer can crack this code and is able to produce a winning formula for efficient e-commerce from process to delivery, then the potential to improve traditionally wafer thin margins can make all the difference in the highly competitive grocery market. Open Routing holds a piece of the puzzle.
Open Routing has one goal: deliver cost efficiencies to the competitive world of online grocery shopping – and their smart solutions have succeeded by partnering with software development outfit, We Are North.
The Catalyst Needed
According to one survey, the Food Marketing Institute in the US estimates that online grocery sales will reach $100 billion by 2025, or about 20% of the grocery retail market. Online purchases of food and alcohol have trailed other categories in online sales, waiting for a catalyst to spur their growth.
In Europe, according to McKinsey, throughout the pandemic, about 15% of surveyed EU-5 (France, Germany, Italy, Spain, United Kingdom) consumers have shopped for groceries on a website that they had never used before. But not everyone has liked their online grocery-shopping experience.
The pandemic was the catalyst the industry needed to transition to online sales, with an incredible increase in grocery delivery in the third quarter of 2020, based on Incisiv's Grocery Digital Maturity Benchmark 2020, a survey of over 90 grocery brands in North America and Europe indicated that chains with a higher digital maturity have outperformed their peers in revenue growth, which has only become even more pronounced during the pandemic.
Overall, however, digital maturity in the grocery retail segment remains low and lags the retail sector as a whole.
Harnessing Data, Distribution, & Logistics
The proving ground in Europe for a revolutionary approach to grocery e-commerce is Poland, the home turf of serial entrepreneur and retail specialist, Witold Ferenc.
Being the creative spark behind e-grocery tech business OpenRouting, he is credited with building the Polish version of Ocado, known as Frisco.pl – a leading online grocery offering with home delivery options.
This is where he gained a grounding in retail technology solutions and the importance of harnessing data, distribution and logistics and an appreciation that whilst the grocery sector provided many digital software opportunities, hardly anyone had put serious thought into finding more efficient ways of delivering and ultimately increasing the frugal margins in this highly competitive and price sensitive sector.
Driven by a need to solve the puzzle of reconciling grocery e-commerce with the inherent inefficiencies built into last mile deliveries, Witold set about building Open Routing.
The technology-backed solution and consultancy dubbed as a 'profit engine for e-grocers' goes beyond the restricted legacy software used by most of the players in the grocery sector. From the outset he partnered with We Are North, the Rotterdam-headquartered data and software application innovators, to develop OpenRouting, in the first instance as a solution for Frisco.
We Are North contributed enormously to all of these innovations. Not just with efficient code and design, but by creating process innovations that helped to deliver more complex solutions – including increased deployment of processes with reduced reliance on computing power.
Constant Search For Cost Efficiencies
The last mile delivery service leads to avoidable inefficiencies such as low asset utilisation and repeated trips to nearby neighbourhoods, increasing vehicle emissions, traffic, and operational costs.Through simulations he investigated alternative fleet management and slot booking, encompassing the algorithms and policies.
Witold explains: "The main business challenges for grocers are capacity issues – where everyone wishes fleets could deliver more order and there's a constant search for cost efficiencies. Last mile is the single most expensive cost and accounts for 10% revenues, that equates to, on average, 30% of margin for grocery and is a huge issue. Our overarching objective is to help grocers become more profitable!."
Analysis of data by Open Routing reveals distance savings of around 17% – and route reduction of around 22%. These results can support policies incentivising vehicle and infrastructure sharing and importantly decoupling the last mile delivery from the core grocery retail services.
Whilst Ocado has a hub and spoke model, and is able to command premium charges, most grocers have three costs to contend with:
Driver's fee – 50% of last mile cost
Vehicle lease – 25%
Fuel – 25%
Inefficiencies Cost Money & Possibly Lose Customers
Based on the ranking of costs, the first priority is to increase the capacity of the driver, by reducing the cost per delivery. Two metrics are used, comprising deliveries per van per week and mileage/km per delivery, directly related to fuel costs.
The Open Routing team identified scheduling inefficiencies that cost money and possibly lost customers. All grocers offer fixed delivery slots. Premium brands, such as Ocado, offer one hour slots, with a 30 minute overlap, but budget retailers offer 3-4 hours. Here is where the all-important customer experience comes into play.
Mindful of the potential impact on the customers retailers are presented with a real challenge to the routing engines. So the opportunity for retailers is to escape the restrictive booked slots, – spanning say 5pm to 9pm sandwiching a 5pm target. Turn the thinking around and if the customer is available from 6pm, then a window of three hours provides capacity for the retailer and certainty for the customer.
In this way, the team developed the concept of flexible delivery slots -- essentially booking a 'preferred time slot' but extending it to account for flexibility, providing more control to the consumer. And this is good for the routing engines, improves the routing efficiencies and saves on fuel and CO2 efficiency. Allowing for flex means that every user can have a different delivery slot, meanwhile Open Routing retains an accurate fix on available slots, but the process is user friendly and helps to provide a positive customer experience.
Significant Challenge
Simply by extending the slots, efficiency increases, as does van capacity – on average by 20 deliveries per van – equating to 80 boxes per van. This translates to 5.5 to 6 hours of deliveries rather than 7-8 hours, providing reduction of cost for drivers and fuel.
A significant challenge in terms of routing is to make the reloads dynamic within the route and the shift and depending on which point you reload, the route is redirected. Making this process efficient is another thing and tested the team's analytical and problem-solving skills.
Market research in Poland (with Frisco) identified overall efficiencies increasing with 240 deliveries and costs going down considerably for the last mile, decreasing dramatically with 180-230 deliveries.
Various optimizations are available, and in the case of Frisco, the routing engine is real-time alterable by the consumer (but the back-end user can check whether the time slots requested are feasible).
Customer Insight
| | |
| --- | --- |
| Customers | Contribution to margin (after fulfilment and delivery costs) |
| 1% (the top) | 15% |
| 30% of the best | 95% |
| 50% of customers | 100% |
Customers -- Contribution to margin (after fulfilment and delivery costs)
1% (the top) -- 15%
30% of the best -- 95%
50% of customers -- 100%
As can be seen, a huge group of customers are consistently eating into margin -- this was a new perspective. The shift from poor selection to a profitability engine, based on profitability of customers and not rigged segmentation enables grocers to investigate their products' profitability.
Based on segmentation, the top performing customers can be provided with access to enhanced delivery slots, allowing retailers to prioritise those customers whereas loss-making customers will be provided with limited access to slots.
The post-pandemic world will witness massive growth - and with that increased competition in e-grocery. Such a fiercely fought market requires smart solutions and that demands continuous development of technology and process innovation that delivers bottom line results.