Why Binary Vision commits to MASA CMS
by Vincent de Winter
20 March 2022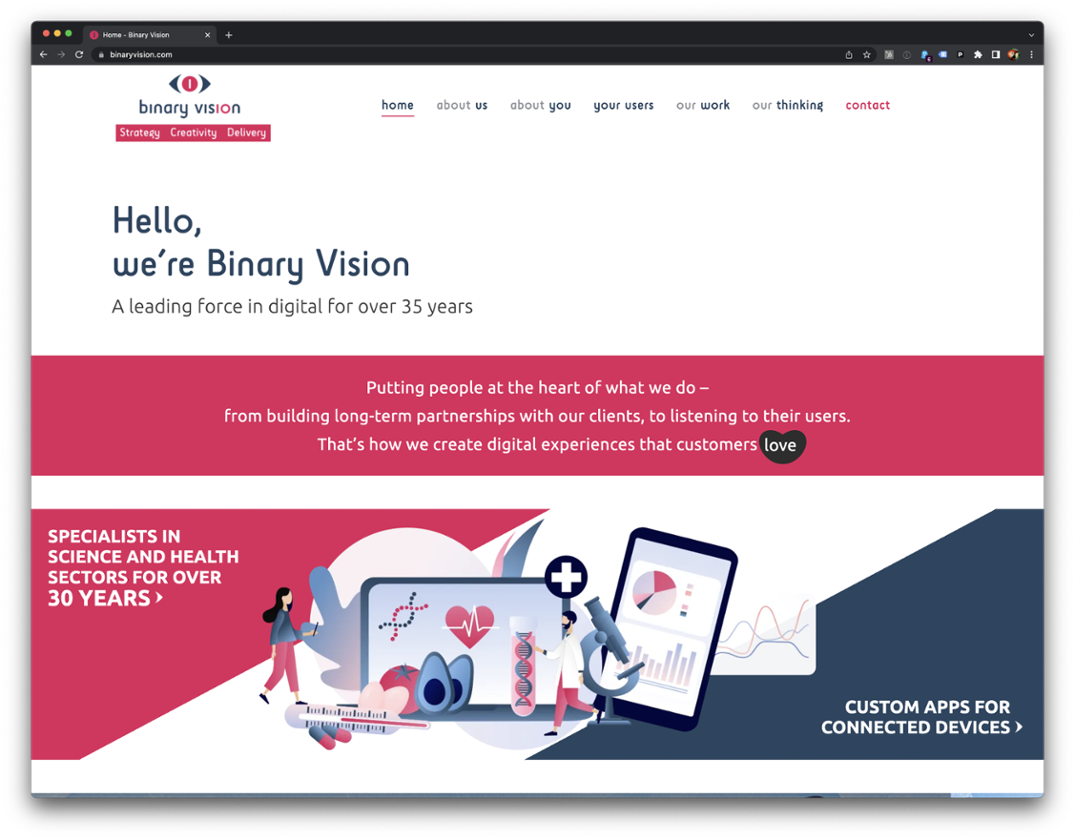 Not so long ago we proudly took over an open-source fork of the brilliant Java based Enterprise CMS platform MURA – reinventing it as MASA. You can read all about that here if you haven't already seen it.
However, today we wanted to cover the fantastic Binary Vision – who provide digital services and websites to some seriously big names. In business for over 35 years, Binary Vision specializes in digital with a focus on the public sector as well as in health and science. They pride themselves in creating user-centric websites that they build using research and evidence into the visitor base.
To use their words, they look for the marriage between the users' needs and their customer's needs. Binary Vision has been using MURA – and subsequently MASA – for a number of years and has built some beautiful sites with it. We wanted to show off what the platform can do with a real-life example so today, we're running through the benefits of MASA from three perspectives: developers, content managers, and users.
Three Big Names
Kicking it off with the name drops, Binary Vision has developed and continue to work on websites for the UK's Royal Air Force (RAF), Childcare Choices with HMRC (the UK's tax body), and finally, the CSA Centre (for Barnardo's), a multi-disciplinary body built to tackle child sexual abuse.
Now that's three diverse entities in the public and not-for-profit sectors that come with a significant amount of standards to adhere to – both from a development perspective as well as when in use by content managers. Each of the sites is unique in its purpose but the RAF is by far the largest, with a wealth of information available to visitors. It also houses a library of 3D models which are interactive and run smoothly across a range of devices.
In their earlier years, Binary Vision supported their own content management platform. However, as they developed, they found the need to focus on their customer builds more than the supportive technology and knew that when working in the public sector a CMS that could support compliance management was crucial. Having looked for a while for an open-source alternative they found MURA and today MASA still fits the bill.
To give some context to user levels, the Childcare Choices website they worked on was going to be popular and they aimed for 1 million visits within the first year. The site itself simplifies the initial assessment of eligibility for childcare benefits before any paperwork needs to be completed. As it turned out, the million visits happened within the first few weeks and MASA's stability is a key part of the continued success of that website.
Developers
When it comes to managing the permissions of your content creators it can often be a struggle to make sure everything is aligned. With MASA though you can set up permissions and restrictions at a very granular level. This massively helps in creating a secure environment that supports distributed publishing models, which are very common in large websites. In the case of the RAF website, there are over 60 content creators, of which around 50 only have control over their specific area of the website.
As a Java based Enterprise CMS, MASA has a lot of power on the backend which helps support resource-heavy processing such as image resizing. For developers, it copes with the strain of this type of work better than many other application layers.
One unique benefit of MASA is how it can handle content and IA changes. Essentially, you can arrange a number of changes and preview them all at once to see how those changes interact. Crucially, you can browse your entire site and find out if there are any unforeseen conflicts in your changes. This makes structural adjustments to your site far quicker than when using other CMS platforms.
Developers within Binary Vision's customers have actually commented on the quality of the inbuilt features in MASA, particularly the IA tree. Pair that with a lack of restrictive hierarchy and MASA places itself as a firm favourite in the hands of those that use it.
Content Managers
First things first, if your WYSIWYG editor isn't up to scratch many content creators using a CMS will struggle to work with it. Luckily MASA has a strong engine for code-free design and this has been a real help for the large team of contributors at the RAF.
The RAF site houses an enormous amount of content on bases, planes, squadrons, groups - really every element of their structure. On the backend, managing this content would normally be a nightmare but with MASA, content can be created in a relational way so that anything related is linked. This sounds like a small point but it means that no matter how large a site gets it will also have a maintained structure without the need for manual linking. Simplicity at scale.
A particular challenge when working in the public sector is in ensuring that all the content which is created matches government guidelines. Templates can be set up on the backend which means creators are guided into using pre-approved branding and formatting. Not only does this cut down on the need for after-the-fact editing, but it also simplifies the process for the creator themselves.
Lastly, developers can set up specific tips and help notifications in the backend to make navigation easier for the contributors. This helps support training after the fact and means new users can quickly get to grips with the CMS.
Users
Now, let's get to the users, the people that will unknowingly appreciate a great website and hate anything else. To start with, the motto Binary Vision have is "be where the users are".
The whole idea of structured content plays into this perfectly. Because content is linked by relationship, MASA can automatically pull through related content on every page. So simply by viewing a particular aircraft, they'll see that it's associated to a specific number of squadrons – which are in turn related to a specific set of stations.
Therefore when viewing the station page, the squadrons are fetched, and then for each of the squadrons, the aircraft are fetched and combined into a single list of aircraft for each station.
This is effectively multi-layer related content – all using built-in MASA functionality. The importance of this cannot be understated. Robust content structures like this make a website easier to navigate, more engaging and easier to manage.
Beyond the brilliant push of related content, the front end of a MASA CMS can handle resource-heavy 3D renders as you can see on the brilliant page that Binary Vision has built.
MASA & We Are North
Working with Binary Vision we've provided training to their people to help their development. This training has in turn been passed on to their customers. We use the feedback they receive to help develop features and this feedback loop is really important to us going forward as we support MASA as an open-source platform.
We know how important security is in our work with NATO and it's clear that customers see the benefits too with Binary Vision continuing to work in the UK's public sector having built websites on the .gov.uk domain.
If the users we work with were trying to get in contact with a larger CMS provider there might be extensive wait times for fixes or the problem of ownership on large scale platforms. Not with MASA though. We know how important patches and fixes are, and because we use the system ourselves, all of them are a priority.
The Short of The Long
We wanted to use some words from Binary Vision CEO Paul Norris to bring home why we're so passionate about MASA.
"The danger of using other platforms of course with that is that you're reliant on so many different parties to keep their add-ons up to date and in keeping with your own goals. If you're looking for a great core CMS that gives you the opportunity to do anything you want, then MASA is the right choice. It's an extremely adaptable, extensible, and customizable platform. Beyond MASA, We Are North themselves have been great in supporting us at every step".
Binary Vision has been helping big public customers for many years with both MURA and MASA and they have every intention of continuing that run. Just like them, we've been a long-time user of this great CMS and have helped them build design environments that can thrive in the modern web space.
Interested in the best CMS out there? Want to know more about MASA? Contact We Are North today.